5 last-minute tips to get more Christmas shoppers into your store | Emma Day Interview
The Christmas shopping season is in full swing, and a predicted 87% of people will begin their shopping journey online this year. With the 20th anniversary of Islands Home Hardware just around the corner, we thought it would be the perfect time to sit down with Emma, tap into her 20 years of experience in retail and bring you her top 5 tips for maximising footfall this Christmas shopping season.
Here are Emma's top 5 tips:
1. Know your customers better than they know themselves
"You must target local trade with offers that are seasonally relevant or you won't increase your number of shop visitors"

Owning a shop on the Isles of Scilly, Emma understands that presenting the right products at the right time is critical to increasing shop visits. The Summer season brings lots of tourists to the Island, with very different needs from the Winter population. Tailoring your stock based on data analysis gives you the best chance of boosting in-store sales.

At NearSt collating the data into one, easy-to-read Dashboard helps our shop owners analyse the best-performing products and make educated decisions on restocking!
2. Target local shoppers who can come in-store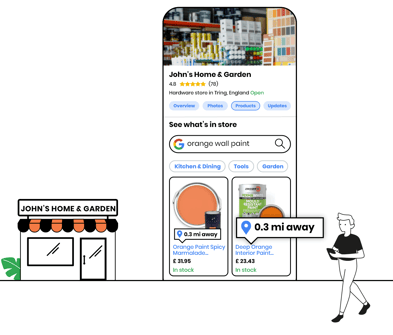 "Online advertising is absolutely critical to maximising your success. You will have some passing trade but you need to do everything possible to entice them to your store"

Despite a moderate climate throughout the year, the temperatures can plummet in December so local trade must be encouraged to leave the confines of their cosy homes! Local Shopping Ads are the best way to boost your product profile over any season - especially Christmas. People don't want to leave home without knowing 100% that you have the product they need, in-store.
3. Let local customers know you have what they need
"Let local customers know you have what they need, and also things they don't realise they need!"

Seasonal shopping is such a short period of time therefore you have to make sure that you have a plan for using every moment of it. Emma and the Island Home Hardware team meticulously plan product and department launches.
Never underestimate the power of local marketing!
4. Dress to impress
"Be aware of your shop face - you will be judged on it"
Books are judged by their covers and so is your shop face!
Emma plans the theme of the shop design well in advance, with Easter being the latest focus. Every part of the store is tied into the theme - from the shop face to the internal design and products. Time management is key to managing the chaos of the season!
5. Fail to prepare, prepare to fail

"Plan your campaigns earlier. Christmas 2022 was planned in August and we're already working on our Spring campaigns!"
It's not just the overall look of the store, you need to plan your campaign well in advance. Christmas was planned and confirmed way back in August! Don't start late or you'll miss vital trade.
If like Emma, you want to start understanding your customers better, attract more local shoppers and unlock the power of local marketing for your store this Christmas get in touch with our team!