How Better Food's ethical supermarkets used NearSt to showcase their in-demand products to local shoppers
Better Food has three shops across Bristol that specialise in local, ethical and organic food and products. Originating over 25 years ago, packing veg boxes in a local kitchen, they now have an extensive range of sustainable, healthy and local, food and products and the local community remains at the forefront of what they do.

The Challenge
'Unless people came into store they wouldn't know what we have to offer, our website gives a broad idea but we have such a wide range of in-demand products' - Matt Philpott, Marketing Manager
With many shoppers searching for food and products locally and more and more people becoming interested in sustainability, the Better Food team knew there was high local demand for the wide array of ethical and organic products they stock. However, the team were concerned that people who hadn't previously visited their shops didn't know they stocked the products they were looking for.
The Solution
Better Food automatically connected their CSY inventory management system to NearSt. This allowed NearSt to take a real-time feed of their products and show them in Google to shoppers searching nearby. Potential customers in the local area can now see Better Food stock the items they need alongside directions to the shop and other key details to come into the store.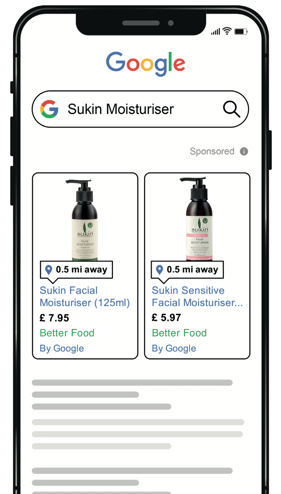 The Results
'NearSt has been a great way of introducing new customers and serving the local community, it was so easy to implement and a no brainer' - Matt Philpott, Marketing Manager
In only 4-weeks, Better Food's products were discovered by 222,728 local shoppers searching online, bringing an estimated 257 new customers to their stores. Whilst NearSt drives more local shoppers to their store each day, the Better Food team can continue to maintain their array of healthy, organic, local and sustainable food and products for the local community.
If you're interested in reaching new customers, we'd love to have you join us! Just sign up here and our team will be in touch.