Teaming up with Grosvenor to get shoppers back into London's West End
We're excited to announce a brand new partnership with Grosvenor Britain & Ireland to get people back into Mayfair & Belgravia's incredible mix of high street shops.
Grosvenor are rolling out our industry-leading local inventory technology to their West End tenants, enabling them to automatically show live in-store product availability to shoppers searching nearby in Google.
This is a brilliant illustration of how landlords, tenants and tech companies can work together to deliver a brilliant customer experience that truly makes it easier to find something nearby than order it online.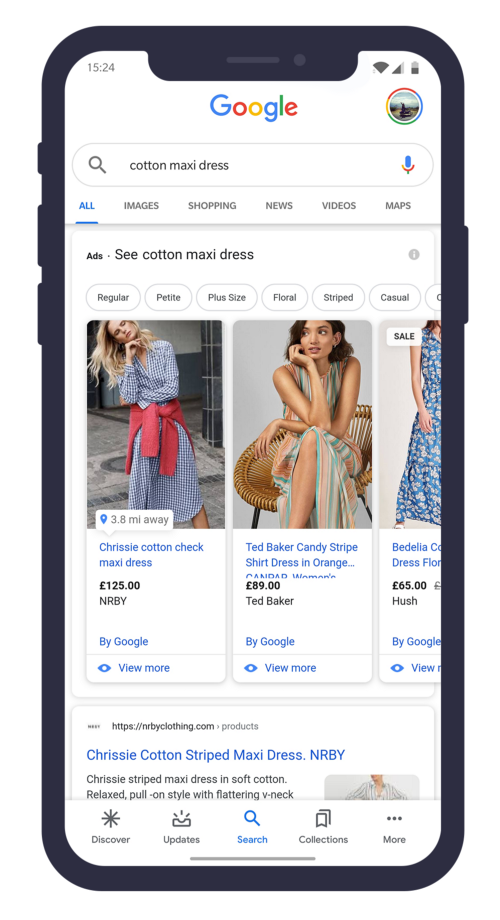 Participating retailers will see their products promoted to customers searching in Google nearby, helping drive more customers back into iconic retail destinations such as Mount Street, North Audley Street and Elizabeth Street.
We've been thrilled to see the diversity of retailers who've already come on board, including underwear designer clothing retailer Les 100 Ciels, jewellery designer VICKISARGE, hair salon Issys, children's clothing boutique Pepa & Co, designer fashion brand Marni, British design label NRBY, and jeweller Elizabeth Gage.
In their first week, the first three shops to go live have already had their products seen by almost 15,000 people searching locally in the Mayfair & Belgravia area; people would have otherwise only seen online ecommerce results.
Initial estimates place the ROI on budget invested into local search at over 700%.
Unlike normal Google Ads, our technology enables retailers to automatically promote their entire live in-store product range to nearby customers searching for related items nearby. In addition to attracting shoppers searching nearby in Google, retailers are also provided with intelligence on local online search behaviours to help them stock products with the greatest local demand.
Amelia Bright, Grosvenor's London Estate Director, commented:
Technology is integral to the best shopping experiences and retail destinations. As we emerge from lockdown, this collaboration will help shine a greater spotlight on the many exciting independent retailers in Mayfair and Belgravia.

Supporting brands and their connection with new customers is just one of the ways we are seeking to recast landlord-tenant relationships as partnerships, where each is invested in the others success.
As Coronavirus has dramatically changed how we all engage with our high street shops, our own data has shown a significant jump in shoppers seeking out local product availability before visiting a store.
We're excited to see how this new partnership with Grosvenor can capitalise on these new local shopping behaviours, and help drive many more shoppers back into high street shops in Mayfair and Belgravia.