New: Show your products on Facebook
Social media is playing a key role in product discovery for online shoppers. In fact, 63% of Facebook users say they use the platform for shopping and related activities. Displaying your in-store products on your Facebook page can help provide this rising audience of shoppers with a seamless path to purchase and drive them to your shop.

With our new Facebook Shops integration, NearSt has made it easy to showcase your entire product catalogue on your Facebook page. The integration allows shoppers to search your live inventory on Facebook without any additional effort from you!
How does it work?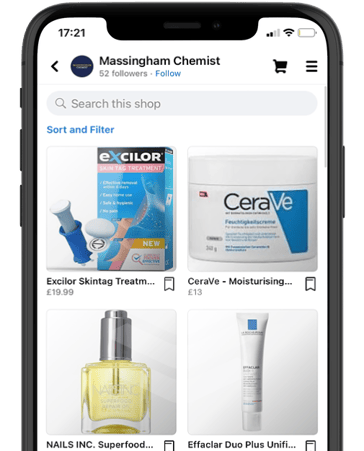 With just one click, you can display your entire product catalogue in a new 'Shops' tab on your Facebook page. Shoppers can browse your stock and come into your shop to purchase.


What are the benefits?
Sell more products to new and existing customers


Make it simple for followers of your Facebook page to see everything you stock.

Reach more people where they already are


Effortlessly promote your latest products to local customers in the places where they spend the most time online.

Create curated collections


Group products to help your customers find products that are right for them.

Promote items in Facebook posts & Messenger


Tag products in your Facebook posts & Messenger to promote items to your customers.

Automatic setup with one click


NearSt automatically sets up your store and creates product profiles using only the barcodes in your EPOS.
How do I get set up?
Facebook Shops comes as part of your current NearSt integration and can be set up in just one-click.
If you're an existing NearSt customer,

just fill in this form

and we'll be in touch to get you set up for free.

If you're new to NearSt,

just sign up here

and our team will be in touch.

What's next?
We're currently building more ways for you to display your products on social media. You'll soon be able to target local shoppers with product ads on Facebook and Instagram as well as link to your products via Whatsapp.

We're always looking for ways to drive more people into your shop. If you have any questions or need any support please get in touch with our team and we will be happy to help on support@near.st
If you aren't currently using NearSt, we'd love to have you join us! Just sign up here and our team will be in touch.