Making the most out of your online presence during lockdown
As we prepare for a second national lockdown, we want to help you keep trading- whether you're an essential or non-essential retailer, we have put together several ways to boost your online presence through NearSt for free.
Although an increasing number of shopping journeys began online in the first lockdown, shopping local was still the preferred option- with 64% of people saying they want to support local businesses and buy local products.
Here are 3 simple things you can do through NearSt to help your customers continue shopping with you:
1. Use See What's in Store to show customers what you stock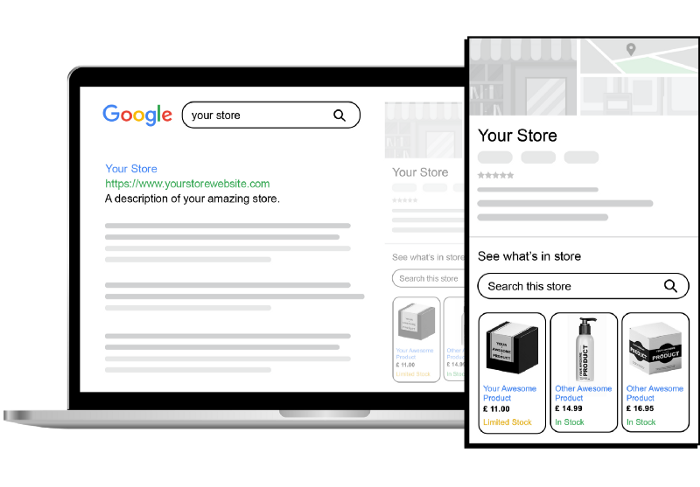 Your See What's in Store appears in your Google My Business listing. This tool allows people to search your entire inventory directly from Google.
Spread the word 📣
Many shops in the first lockdown used See What's in Store to operate a click and collect and/or local delivery service with a local courier. Here's how they did this:
1. Tell your customers you're offering click and collect or local delivery on social media or on your website
2. Direct them to your See What's in Store
3. Have them email or phone in their order
4. You confirm their details and arrange the collection
Share your See What's in Store on Facebook, Twitter and Instagram by using our new sharing tools now available in MyShop.
You'll also find our poster to add to your shop window, letting passersby know they can search your stock in Google- even when you're closed.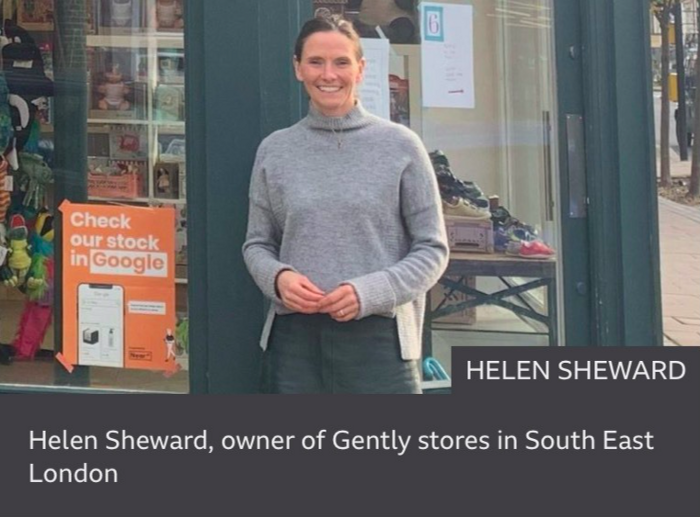 2. Use your NearSt shop page to communicate with customers.
When people click on a product in your See What's in Store, and click on 'Visit website' they're taken to your NearSt shop page. In the first lockdown, shops who gave their customers easy ways to reach them were able to continue offering collection and local delivery services, your NearSt shop page is an easy way to help facilitate that.
+ Add Facebook Messenger
Hook up Facebook Messenger to your shop page and allow shoppers to get in touch with you directly.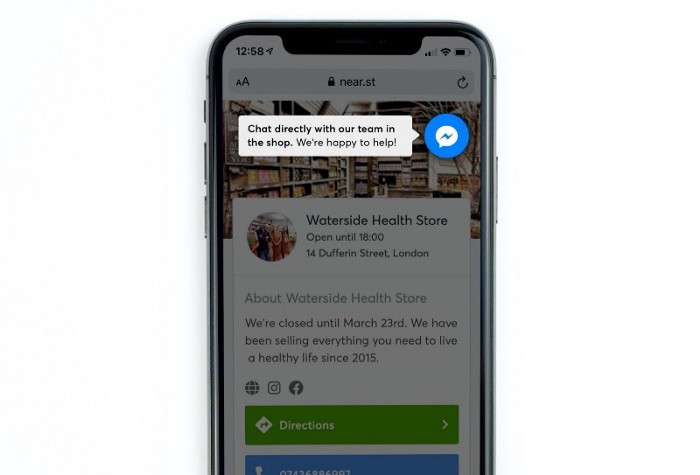 + Add WhatsApp
Link your WhatsApp to make it as easy as possible for your customers to contact you with any enquiries.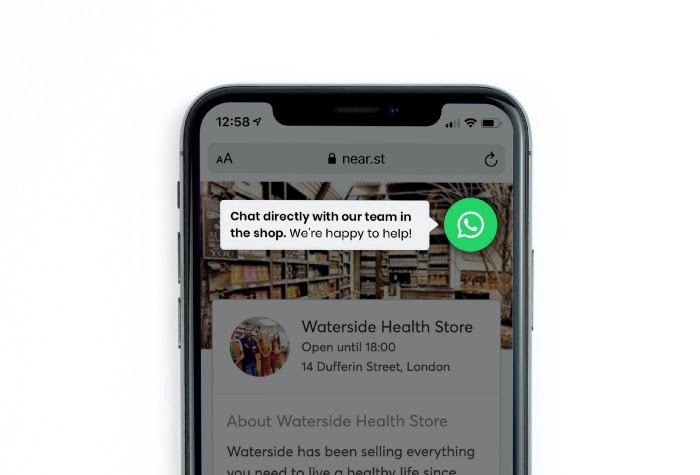 Personalise it!
Add a bio to your shop page to let customers know the best way to purchase from you, or if you have any additional services over lockdown.
3. Keep your customers informed by updating your Google My Business listing
Your Google My Business listing is what appears when people search for your shop in Google, so it's important to keep it up to date. Here are a few ways to make sure people have the latest information about your shop:
Update your operating hours
If your business hours have changed, update your profile so customers know when they can visit your shop. If you're closing for a period, mark your business as 'temporarily closed'. However, if you're still offering delivery or click and collect services- keep your business hours as open to let people know you're still available to purchase from. See point 1 here to find out how to update your opening hours.
Add a lockdown post
Post updates to share more about precautions you're taking, what products are available, if you provide additional services, and whether customers can expect delays. See point 6 here to find how to add posts.
Add your Services
The attributes feature lets you add or edit the services you offer, like 'Delivery' or 'In-store pickup'. These attributes now appear on your Business Profile and help customers know what options are available to them. See point 3 here to find out how to add services.
We understand this is a difficult period for high street shops, and we're here to help you. If you need a hand with any of the services above, please give us a call on 020 3322 2435 or email us at support@near.st.