How a hardware shop used NearSt to continue trading during lockdown
When lockdown restrictions came into effect in March, local hardware shop Snape & Sons made the tough decision to close their doors to in-store customers. The team had only a limited number of their products online, and rapidly found themselves overwhelmed with calls enquiring about what they had in stock. The shop had to adapt quickly and turn to helpful technology solutions to continue trading.
Celebrating their 85th birthday next year, Snape & Sons has established a reputation as the go-to place for hardware, homeware, DIY and gardening supplies in the Cheadle Hulme area. Offering a number of services and expert advice alongside their extensive product catalogue, it's no wonder the owner Adam calls the shop a 'Jack of all trades'.
Like many independent retailers, adding and updating products on a website is a time-consuming task. Having fewer staff and less time on their hands to answer customer requests during lockdown, Snape & Sons needed a way to show people what they had in stock before ordering with them.
"Cataloguing over 7,000 stock lines with images and descriptions online is already a laborious task and having less time and staff during the crisis meant that we had to direct our efforts into orders"- Adam, Snape & Sons
Snape & Sons started directing customers to their Google See What's in Store, which is automatically populated with their in-stock products, powered by NearSt.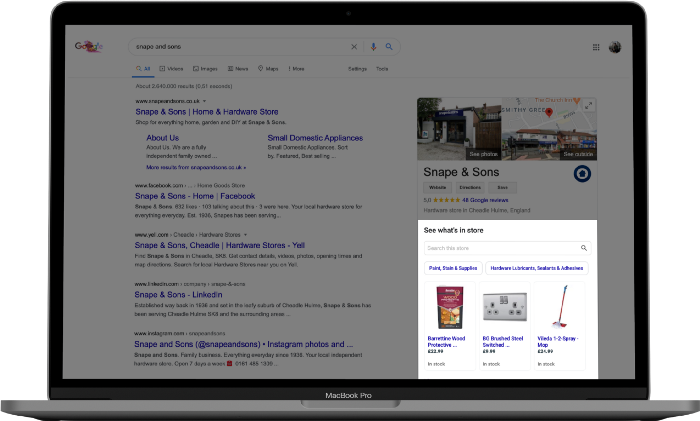 By directing customers to check what they sell in Google See What's in Store, customers could virtually browse Snape & Sons shelves and check the item they need is in stock before ordering over email. The team suddenly had more time to focus on order fulfilment and spend less time answering order requests on the phone.
"Customers are finding what we stock directly in Google and ordering them through us over email. I don't know how we would've coped without NearSt" -Adam, Snape & Sons
Customers are finding what they need in their See What's in Store and ordering over email. With less time on their hands, Snape & Sons use NearSt to continue serving the local community as they have done for 84 years.
In the first four weeks of lockdown, 4,217 customers found Snape & Son's products in Google, and as social-distancing rules relax, the owners plan to keep using NearSt to show customers what they have in stock before purchasing from them.
If you'd like to see how NearSt could help you connect your products to customers for no extra work, drop us a note on hello@near.st or give us a ring on 020 3322 2435.