Boodles' stores see footfall growth as online discovery of their in-store products soars by 9,000%
Boodles, founded in 1798, is a British family-owned luxury jeweller and jewellery design group. A brand with over 200 years of heritage, they boast a network of ten luxury showrooms located across the UK's most famous shopping destinations including Manchester, Dublin and their flagship on London's iconic New Bond Street.
"The footfall piece is a very strong objective for Boodles. NearSt is a perfect fit for exactly that: getting more footfall into our stores."

- Sarah Pemberton, Boodles' E-commerce Manager
Sarah Pemberton is Boodles' e-Commerce Manager. Amongst other things, she is responsible for two core areas, driving traffic and sales on the website and supporting footfall into Boodles' stores through digital marketing.
The Problem
Although Sarah's role includes supporting footfall to the stores, specifically increasing footfall had never been a focus. Meaning Sarah was looking to overcome two challenges:
Increase footfall to all the stores without implementing costly and time-intensive new projects.
Rapidly increase the local client base of two priority stores (Leeds & Dublin)
The Solution
Sarah has an array of tools to help generate traffic to the website, but none of those tools are specifically aimed at driving online traffic into the stores.
To solve her in-store traffic driving dilemma, Sarah turned to NearSt. Boodles got started by setting up a regular upload of their in-store stock data (barcode, quantity and price) from their Point of Sales system to NearSt. In just four days, the raw product data was turned into live high-quality product data, discoverable to online shoppers searching locally on Google.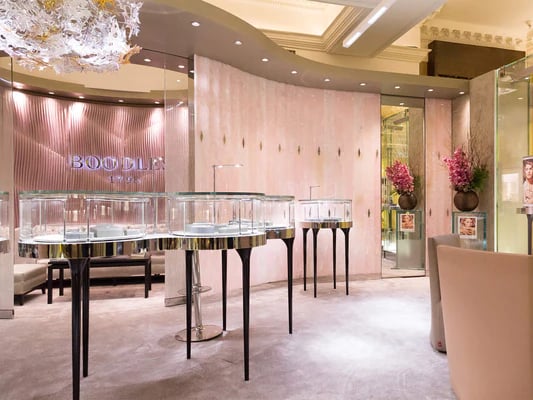 In under just a week and with a minimal increase in workload, Sarah had opened up access to a suite of new local customer engagement channels on Google and Facebook.
"That's why I am so impressed with NearSt. It's very specific to getting footfall into the shops. The results have surprised me. To see the uplift that it's driven, that was surprising - in a positive way!"

- Sarah
The Results
Shortly after joining NearSt Sarah gained access to her MyShop dashboard, where she can analyse the data and performance of NearSt. She instantly began discovering similarities in how products perform between the stores, as well as the differences between what people are looking for in London versus their stores further north.
Prior to starting with NearSt, Sarah told the team there were two stores she wanted to focus on, Dublin and Leeds, as "there is a big challenge to build up the local client base for both stores." This is where Sarah focused her Local Inventory Ads (LIA) budget. The ads allow Sarah to showcase Boodles' in-store products and shop information at the top of Google to nearby shoppers searching.
As a result of that focus, the number of times Dublin's in-store products appeared in Google results when local shoppers were searching for them increased by more than 9,000%.
Combining results from both the Leeds and Dublin stores, in September 2023 a calculated 97 customers visited the stores after clicking on a LIA. With the stores stocking items worth well over £60,000, this drove record in-store sales. You can read about these record sales in more depth here.
After just six months on NearSt, the results spoke for themselves. Sarah decided to roll NearSt out to the full network of Boodles' stores
"We're seeing strong results and really strong local impressions, so it just made sense to roll it out to the rest of the shops. NearSt and the flexible Local Inventory Ads allow us to test new things and, down the line, I can see the benefit of also rolling out Local Ads for all the stores."

- Sarah
Find out more
Sarah spoke to us in more depth about deploying Local Inventory Ads, how she is utilising her new access to local analytics and what drove her to expand NearSt across her network. To read about this, click here or enter your details below.
About Us
NearSt operates in every retail sector across 45 markets. The business is now the fastest and easiest way to connect your in-store inventory to the biggest search and social platforms in the world.

If like Sarah you want to start using NearSt to connect your products to places like Google and Meta, increase footfall and gain customer insights, register for more information here or email us at: hello@near.st.