Attracting more in-store customers with Google See What's in Store
What is Google See What's in Store?
Google See What's in Store (SWIS) is an essential tool that allows customers to browse your shop's full inventory in Google. It displays images and detailed descriptions about your in-stock products. Customers are able to browse through your product categories, or dive in and search for something more specific from your shop.
Where can I find it?
See What's in Store can be found in your Google My Business listing. When someone searches for your shop name in Google, your Google My Business listing will show up on the right hand side of the search results. See what's in Store appears underneath your store information such as opening hours, a contact number and the shop's address. There is a preview of the products, as well as the option to view more and dive into the full in-stock inventory.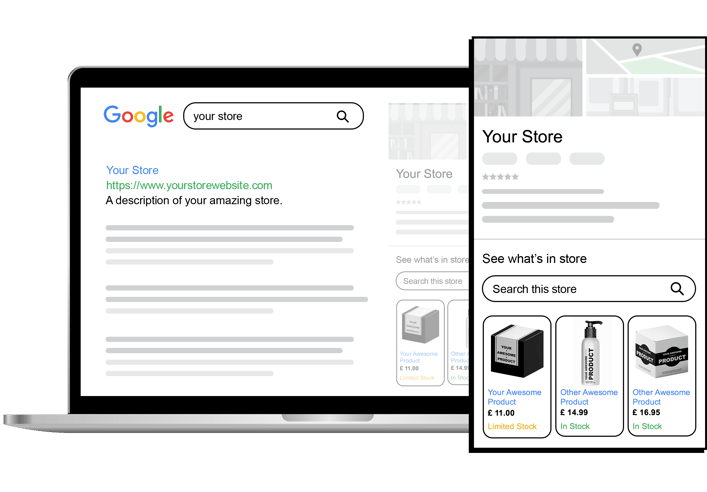 What are the benefits?
Save time - Customers no longer have to phone to find out what products you have in stock
Visibility - Get your products in front of local customers where they're already searching
Increase footfall - Customers can confirm that you have what they need before coming in-store, making it more likely they'll shop with you over an online competitor
Instant product listings - ​​Provide a rich fully searchable store hosted directly in Google with no maintenance
Why get See What's in Store with NearSt?
NearSt makes it as easy as a few clicks to automatically show your stock in See what's in Store, meaning you can focus on running your business.
Automatic setup - get your products live on Google in just a few clicks
Image, description and title of your products automatically added for you by NearSt no data entry needed
Live stock updates straight from your Point of Sale - no data management needed
What NearSt Customers are saying
"I'm chuffed that people are coming in saying they've discovered us online. One customer said she hadn't been in for over 20 years, she saw we were cheaper than B&Q and said she's going to come to us before she goes anywhere else in future. We have lots and lots of anecdotes of people coming in after finding us in Google. Very happy."

- Andrew, Brundall Home Hardware
If you'd like to see how NearSt could help you connect your products to customers for no extra work, drop us a note on hello@near.st or give us a ring on 0333 050 9658.