Introducing: an all-new MyShop
MyShop is the go-to place to discover everything there is to know about how your shop is performing with NearSt. Our team has recently created a new layout for MyShop so that it is easier than ever to navigate and explore. Check it out here!
What's new?
Clearer designs
Viewing your shop's performance over the last 30 days is now effortless with the latest design. The overview graph clearly highlights your progress, where you can visualise and track your shop's performance at a glance. This new graph also helps to see how your Google See What's in Store, Shop Page and Local Inventory Ads (don't have them on? Activate them in the Local Ads tab in MyShop!) have performed across a 30 day period.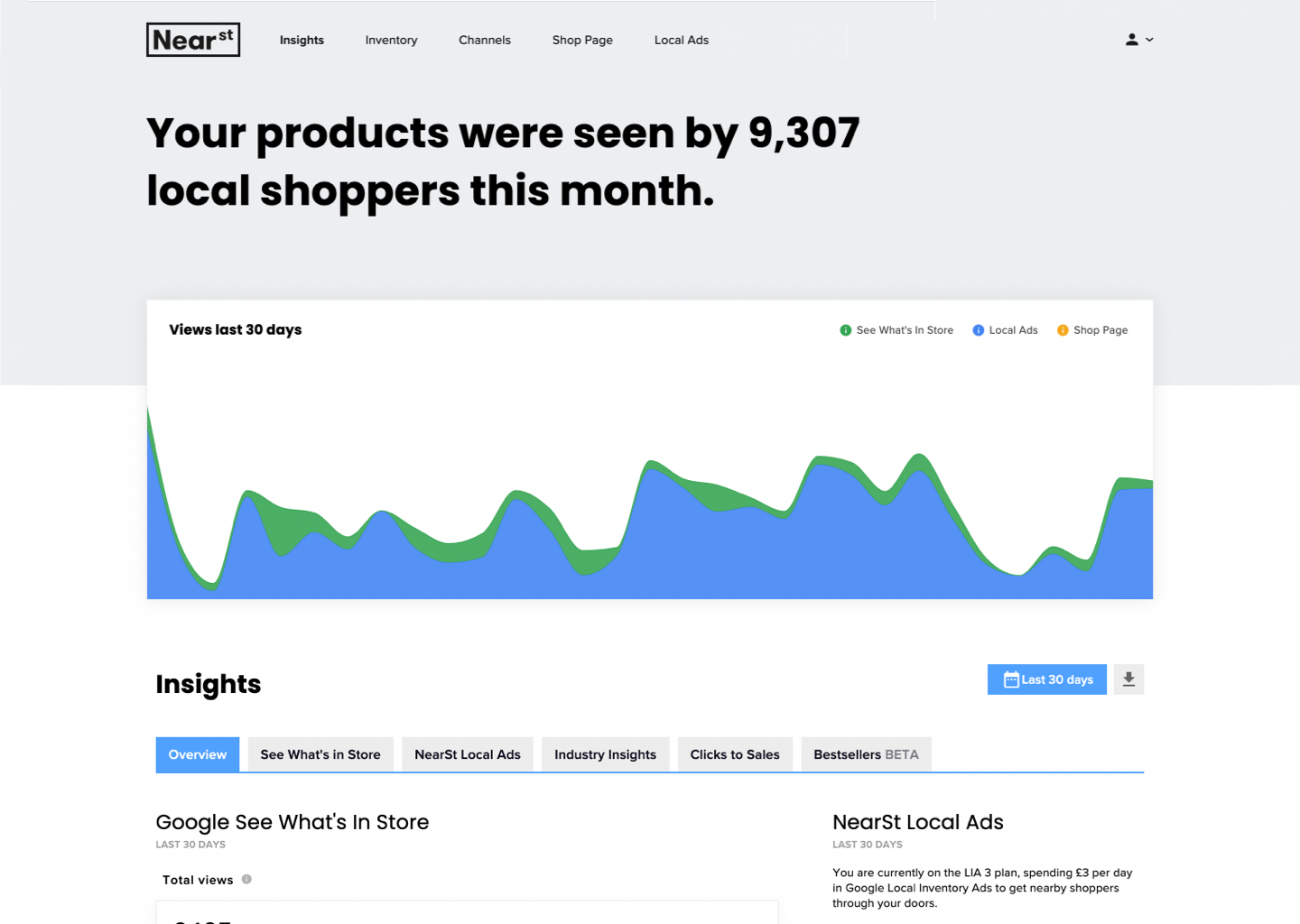 New Insights
With the latest Google See What's in Store insights, you can discover where people are finding your products; whether that's through Google Search or on Google Maps. You can also see the number of times people click on your website, directions and phone number from your product pages.
Both of these new specialised insights are also accompanied by attractive visuals that show a clear breakdown of the data.
Improved Navigation
The top right corner of the latest version of MyShop offers a profile drop down where you can navigate between your Account page and Billing. You can also use this drop down to check out our latest updates by clicking the link to our Blog or use the Give Feedback button to let us know what you think! This makes it easier than ever to glide between the MyShop functions.
What's next?
These new and swift designs are laying the foundation for even more exciting changes that will be coming to MyShop. We're currently working on new and improved insights, as well as visual tools that offer a visualisation of your shop's performance. Watch this space!
If you would like a demo of the all new MyShop with a member of our friendly Customer Success team, please get in touch and we'll arrange this with you!
If you'd like to see how NearSt could help you connect your products to customers for no extra work, register your interest here, drop us a note on hello@near.st or give us a ring on 0333 050 9658.