How two Convenience shops reached over half a million local shoppers searching in Google in just 6 months
Parkview Retail's Co-op Welcome convenience stores in Southampton have been serving the local community and its visitors for 20 years. Having won multiple convenience retail awards such as 'Best use of technology', they're always keen to be at the forefront of new tech and find ways they can best serve their customers.
Challenge
Richard at The Parkview Retail group was looking for a simple and direct solution to reach local shoppers. They had previously tried more traditional forms of advertising, but they found these methods had high investment without guarantee they were reaching the right audience. They were looking for a more direct, cost-effective way to reach local shoppers who were looking for their products.
Solution
After hearing about NearSt at the ACS tech showcase, Parkview Retail connected their VME point-of-sale systems for their Co-op Welcome Frobisher House and Liberty Quay locations to NearSt in just two clicks. This enabled NearSt to take a real-time feed of their in-store products and show them across Google. Now, local shoppers searching for their products on Google can see their local Co-op Welcome shop has the items they're looking for along with the key details they need to nip in store.
'NearSt is a lot more productive than other forms of advertising, it's simple and direct' - Richard Inglis, Company Director
Results
Parkview Retail's 2 Co-op Welcome shops have been showing their live in-store inventory for free across Google for 6 months now. Enabling shoppers to browse their shelves in Google also helps to improve their Google maps ranking.
Parkview Retail has also been running Local Inventory Ads to drive more footfall, and have recently connected a third location. With an investment of £640 on their Local Ads over 6 months, they drove 817 shoppers in-store. Generating an estimated £8,170 of revenue. Their products have been shown to over a million people in Google since joining NearSt last year!
Through their NearSt MyShop account, Parkview Retail can keep track of local and industry-wide demand. NearSt's data over just 7 days shows vodka, lint chocolate and ways to unblock a sink to be amongst the most searched-for convenience products in Southampton, with Jack Daniels being their most popular product! The most staggering result shows that 100% of Rich's listed products were discovered online by local shoppers. Below shows the top 9 search terms during the last 7 days of August 2021.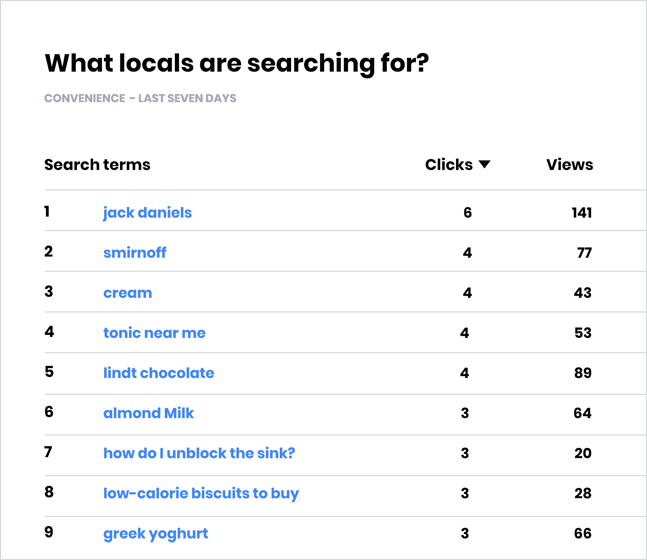 If you're keen to use NearSt to boost footfall and would like to have access to local and industry insights, sign up here and one of our team will be in touch.