How people continue shopping with high street shops under lockdown
Over the past few weeks retail has gone through a massive change, as shops and their customers adapt to life under lockdown. While Google's aggregated location data shows a 46% decline in footfall to UK grocers and pharmacies, people still want to shop in their local stores. But they are having to find new ways to do it.
Against this backdrop we noticed a fascinating trend in our own data.
Traffic to Near.st Shop Pages rose 235% in March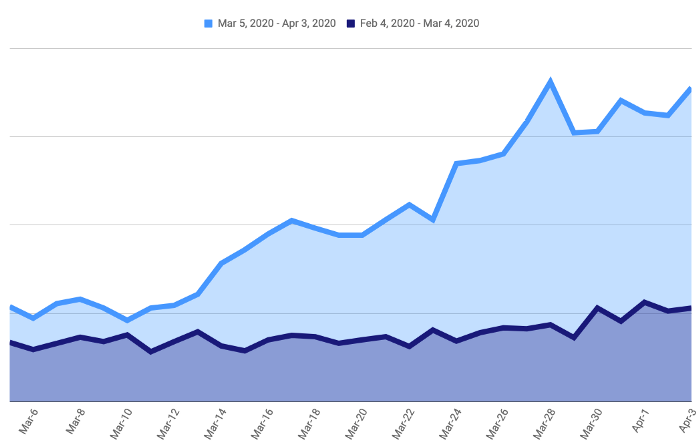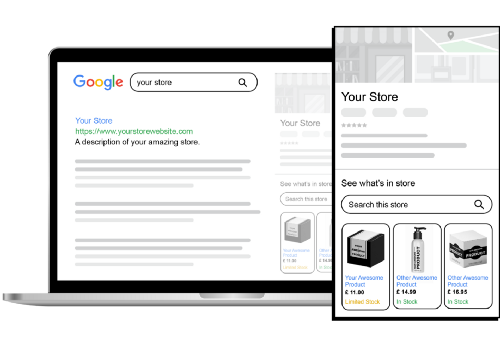 Google 'See What's In Store'
Usually shoppers experience NearSt through Google Local Inventory Ads and See What's In Store. Only occasionally do they click through to Near.st Shop Pages for more information about a shop. Most of what they are looking for can be found in Google, which runs on NearSt's data. So why the sudden rise in traffic to our own pages?
What actions are shoppers looking to take?
In addition to the rise in traffic, we saw clicks on buttons providing additional information dramatically increase. Three in particular stood out:
Searches for in-stock products: ⬆️ 173%
Checking opening hours: ⬆️ 494%
Calling shops: ⬆️ 598%
All of these are actions that can be completed within Google, but shoppers are taking additional steps to double check that the items they want are definitely available and that the shop is definitely open. Shoppers don't want to risk a wasted visit.
If we look again at the growth in traffic against key events, the influences on shopper behaviour become even more apparent.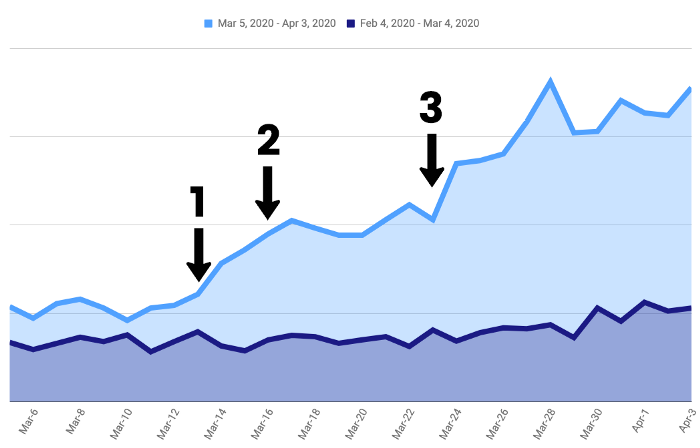 March 13th

— Panic buying begins after UK jumps to 200+ daily cases
March 16th

— Social distancing introduced
March 24th

— UK lockdown comes into force
In uncertain times shoppers want certainty
March 13th and March 24th both represented moments of increased uncertainty for shoppers.
Do they have the item I want?
Is the shop still open?
Will I really get what I need?
What's clear is that shoppers want to continue using their local high street stores but need a safe, certain way to do so. Providing both information and a human contact to verify that information helps provide certainty and keeps people shopping.
3 lessons we've taken from this behaviour change
Product availability is essential for shoppers to feel confident in making a shopping trip
Shoppers expect to engage directly with shops much more — whether via email, phone, social media or WhatsApp
Shoppers will quickly expect this additional in-store inventory availability information and shop interaction as the new benchmark
While these are only early signals and the behaviour is very fresh, it gives a view of what the rest of this year could look like. We could expect to see an increase in customers with targeted shopping journeys vs shopping as a leisure activity. And tools like Google 'See What's In Store' and 'Local Inventory Ads' will likely become more important to get local shoppers into shops.
Adding these features to your store is surprisingly easy. Leave us a comment below or get in touch on hello@near.st