COVID Local Shopping Insights — Aug 2020
As COVID-19 has reshaped so many aspects of our lives, we've been publishing a series of articles on how shopper behaviours have changed and what this means for retailers, based on more than 2 billion data points captured each month through the NearLIVE platform.
This piece follows April 7th and May 5th articles and explores shopper trends now retail has reopened with social-distancing measures still in place.
Shoppers are forming new habits
The shift to buying more online during lockdown has been well documented, however we've seen shoppers doing more of everything online. For retailers, this includes a massive jump in shoppers seeking out local product availability before visiting.
We previously wrote about the 620% jump in local stock checking, which peaked on April 20th [1]. Since then there have been two further changes: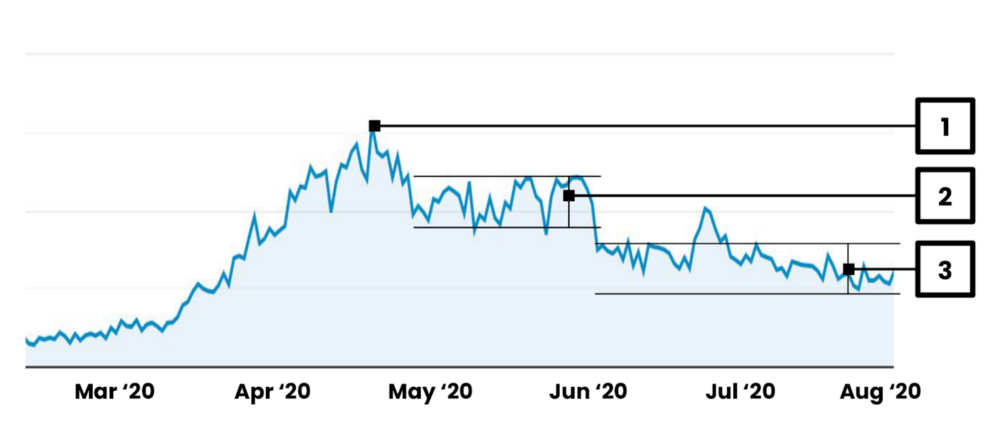 Throughout May [2] shoppers seeking product availability averaged +384% vs February levels as everyone adapted to social-distancing measures.
Following the relaxation of these measures on June 1st [3] we seem to have established a new baseline, where shoppers are checking local stock availability at +256% compared to pre-COVID levels.
These are significant changes, and suggest a sustained shift in how people expect to interact online with their local shops before making a visit.
As footfall returns, local searches remain high
At the start of the pandemic footfall and local stock searches were inversely related — the less often someone visits a shop, the more important checking availability is.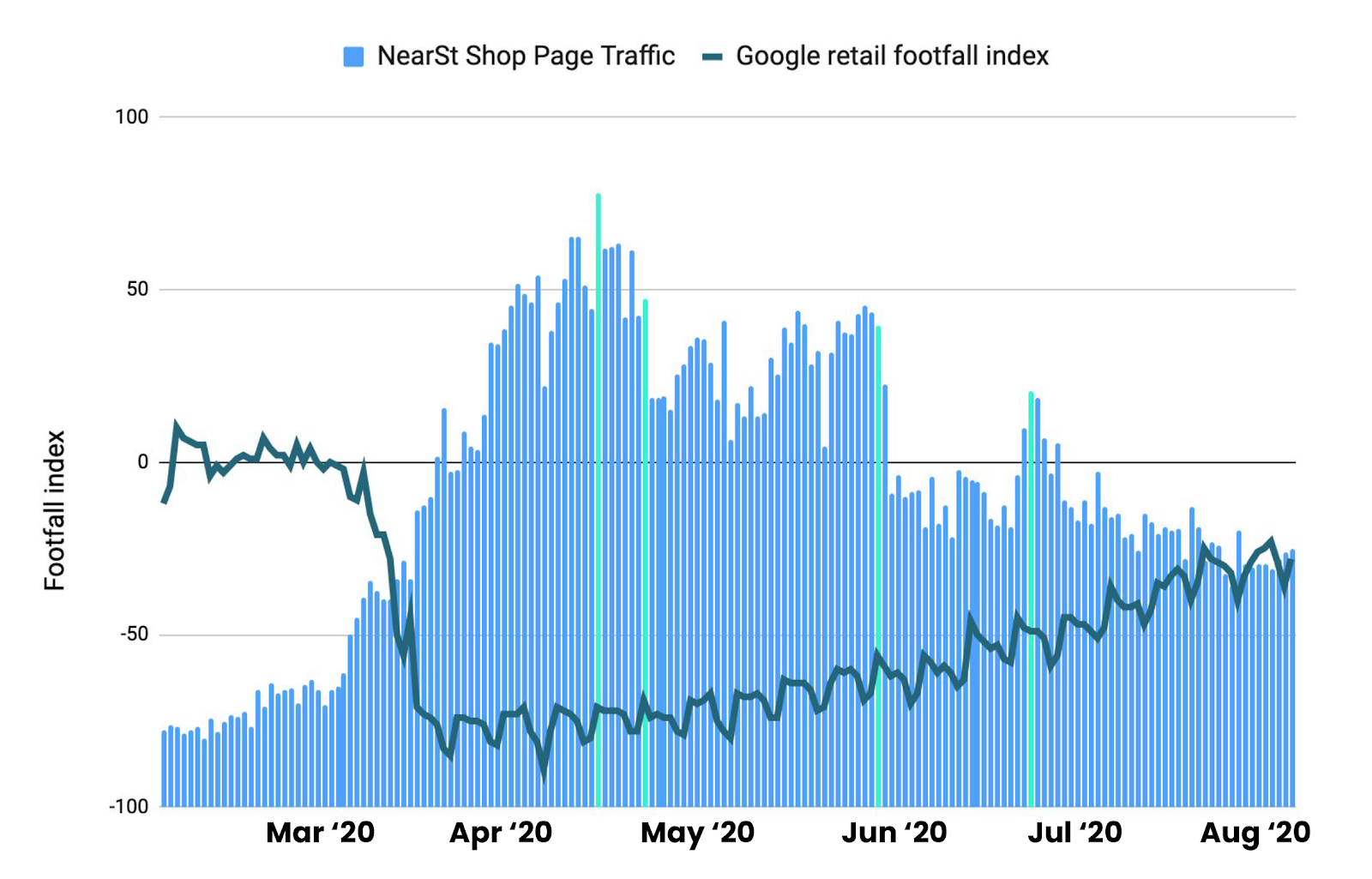 As footfall has steadily returned, customer searches for local availability have plateaued.
This suggests that as shoppers regain their confidence, they're retaining the search-before-you-shop habits formed during lockdown.
People want to get back into local shops
Research from Retail Week in July revealed a desire from shoppers to return to stores, with 37% saying they expected to shop more in their local communities based on discoveries made during lockdown. A similar study from Wunderman Thompson showed the value shoppers get from a physical shopping experience.
Both studies highlighted that there are still significant frictions retailers must overcome in order to capture these customers.
48% of shoppers reported that they are still scared of shopping in-store, and 51% find the process of queuing as part of their visit frustrating.
Balancing convenience and safety are now essential
Research from Retail Week showed "Convenience" as one of the most important influencers on consumer spending in the next 12 months, trailing only "Price", "Product Quality" and "Discounts".
When we look at the actions shoppers are taking after finding local availability information, contacting a store has seen the largest sustained growth compared to pre-COVID levels.
Shoppers are still double or even triple checking that the item they've found is going to be available before visiting a store.
Even as footfall returns, shoppers are making sure they don't waste a visit. You can see this in the spike in local searches in the earlier graph on June 24th; the hottest day of the year. While people felt confident to get out of the house and into the streets, they still made sure to check ahead before visiting a store.
Providing certainty to shoppers is still king
In our first post on April 7th we observed that COVID-19 has made providing certainty a critical role for retailers in attracting shoppers to come in store.
As social-distancing restrictions are relaxed and shoppers return to high streets, our data suggest that continuing to provide certainty (and the added convenience associated with it) remains an essential element in the new socially-distanced shopper journey.
Providing this to shoppers with live local product availability data is now easier than ever.
Find out how we can support you in providing this essential certainty to your customers by getting in touch on hello@near.st.