How Local Ads helped a local independent store compete with Walmart
4Ever Growing Kids is a children's boutique store based in Washington State, USA with an amazing mission to promote the use of second-hand items - such as toys, clothes and accessories.
Year To Date Results

+20


extra in-store customers per month

+45%


increase in Google listing views

x6


Local online reach
'Using NearSt puts us little guys in front of the big boss stores. It makes me so excited to see our products in Google alongside Target and Walmart, and often people come to my shop first.'

Amy

Owner, 4Ever Growing Kids
Serving the Washington and Camas communities for over nine years, 4Ever Growing Kids prides itself on promoting sustainability and conservation.
The Challenge
Having previously used Facebook Ads, the team hadn't seen any evidence that this form of marketing was driving more shoppers in-store and so they began looking for an alternate way to display their inventory online.
Step in NearSt!
The Solution
Amy was keen to become one of NearSt's flagship US clients and, less than 24 hours after signing up, NearSt seamlessly connected the retail store's products to Google for online shoppers to start discovering!
After an introductory call with the NearSt Customer Success team, 4Ever Growing Kids activated Local Inventory Ads - an amazing tool for boosting your online reach and encouraging more in-store visits. In less than one month Amy saw a boost in website traffic of over 45% alongside 20 extra in-store visitors.
Starting at $2 a day, Local Ads became an easy way to advertise products to local shoppers on Google; increasing their overall footfall and in-store sales.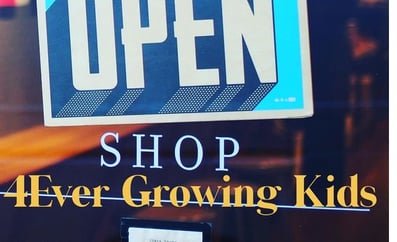 The Results
With her products appearing at the top of Google, Amy receives high footfall numbers from locals in the Camas area. Furthermore, thanks to NearSt's in-depth industry insights, Amy is able to monitor the top products in the kid's clothing sector, consistently ensuring that she stocks the most in-demand and most popular products.
NearSt's Google Ads-certified Customer Success team continuously assist Amy and the team by optimising her ads; ensuring that they continue to appear in relevant and local searches. Moreover, having the live inventory in Google allows Amy to focus on facilitating a great customer experience in-store.
If you're keen to use NearSt to boost footfall and would like to have access to local and industry insights, sign up here and one of our team will be in touch.