How NearSt's real-time local inventory technology 'fits seamlessly' into Champion Timber's 10 branches
With 10 locations across the South East of England, Champion Timber is the region's leading independent timber specialist chain, with over 90 years of experience trading premium timber.
"NearSt did exactly what they promised and helped us get more footfall into our 10 branches, through a direct product import that allowed our products to be quickly shown on Google to those searching for them."

Tom Gray, E-commerce Manager
The Challenge
Champion Timber were searching for a solution to help their stores compete with the larger, national brands as well as enhance both their trade and retail sales.
Tom Gray, Champion's E-commerce Manager, was faced with the additional challenge of finding this solution without the need to change the business' existing software and processes.
The Solution
NearSt connected directly with Champion Timber's existing Point of Sale (POS) system to set up a regular export of just three pieces of information, the barcode (GTIN), stock level and price for the products at each of their locations. Once set up, NearSt took this low-quality raw product data and turned it into high-quality real-time inventory data to be fed into Google.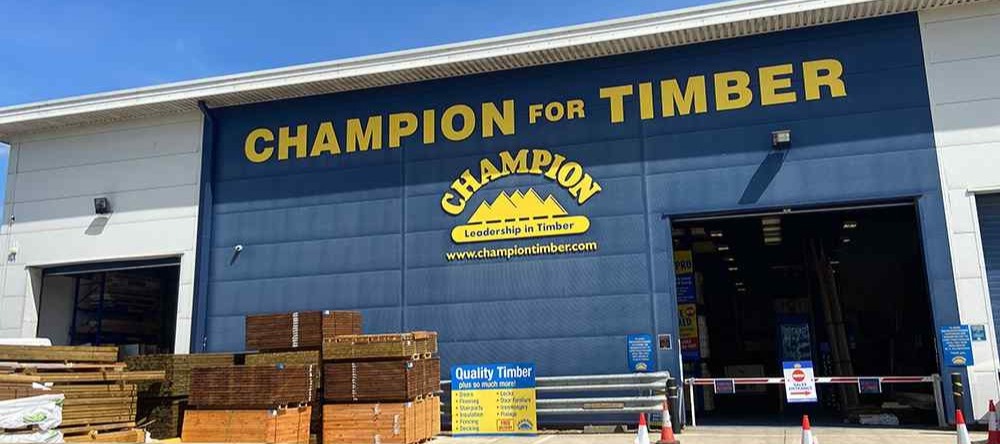 With the feeds set up and refreshing every 15 minutes, NearSt began running in the background and automatically displayed their live product information to local shoppers searching online. Tom and the team then turned their attention to other e-commerce projects while NearSt maintained and optimised the feeds to drive online shoppers into their branches.
"NearSt provided an easy-to-use and out-of-the-box solution that fits seamlessly into our existing software"

Tom Gray, E-commerce Manager
The Results
Within 14 days NearSt got Champion Timber live in Google. Shortly after, all 10 branches reported an increase in footfall and Tom's colleagues on the shop floor often find customers coming in-store looking for the products they'd seen in Google.
The NearSt dashboard, MyShop, tracks how the branches are performing, displaying metrics such as clicks and impressions. The MyShop dashboard is also allowing Tom to monitor and reallocate their Local Inventory Ad budget to stores that for example may have excess stock he wants to sell or where local events are taking place and online search traffic is high.
"The dashboard that comes with NearSt is easy to navigate and provides accurate data to report on. Ruby is our point of contact at the company and has been friendly, helpful and attentive throughout the entire process."

Tom Gray, E-commerce Manager
About NearSt
With already over 120+ established POS integrations, NearSt is the market leader in the real-time local inventory space and continues to actively grow its wide network of POS and technology partners. NearSt is now the fastest and easiest way to connect your in-store inventory to the biggest search and social platforms in the world.
If you'd like to see how NearSt could help you connect your products to places like Google and Meta platforms seamlessly, register for more information here or email us at: hello@near.st