Guest Post | Using "Near Me" searches to guarantee people find your Pharmacy online
NearSt partners with retail's best companies. This week, we're thrilled to put the spotlight on our partner Pharmacy Mentor and asked them to write a guest blog. As the UK's leading digital marketing solution for pharmacies, they offer NearSt as one of their services to get online shoppers to choose their pharmacy over online and local competitors.
Using "Near Me" searches to guarantee people find your Pharmacy online
NearSt takes advantage of the explosive popularity of "near me" searches in Google, for example, searches like "blood pressure monitor near me" or "compression ankle brace near me". NearSt does this by displaying products people are searching for online which drives them into the NearSt-using stores that stock them.
But products aren't the only thing that can be discovered with "near me" searches.
This simple guide explains how pharmacies can grow their Private Clinics and Dispensing numbers using "near me" searches, in addition to the footfall and product sales grown by NearSt.
Pharmacy Mentor is a company of marketers & web developers, helping pharmacies better connect with their community. We do this by improving access to their healthcare services online.
We love NearSt as a solution, and we hope you love this guide.
Google Maps & "Near Me" Searches
"Near me" Google Searches are shown on Google Maps as the top result by default.
Appearing at the top of Google Maps results is beneficial for a community pharmacy for a few reasons:
Visibility: As Google results pages show Maps results first for "near me" searches, appearing at the top of Google Maps results means a community pharmacy gets considered by every potential patient actively searching for a nearby pharmacy.

Increased foot traffic: When a pharmacy appears at the top of Google Maps results, it's more likely that people will visit the pharmacy in person. This can lead to an increase in foot traffic and more sales.

Trust and credibility: People tend to trust businesses that appear at the top of search engine results, including Google Maps. By appearing at the top, a community pharmacy can build trust, credibility and loyalty with potential customers.

Local relevance: For a community pharmacy, it's especially important to appear at the top of Google Maps results because it indicates that the pharmacy is local and relevant to the searcher's location. This helps attract customers actively looking for a pharmacy in their immediate area.
Evidently, being at the top of Google Maps = revenue growth.
But getting to the top of Google Maps organically is not always guaranteed.
How Google Ads help your Pharmacy
With Google Ads, however, you can now display your Ad on Google Maps listings. And that does guarantee you appear at the top.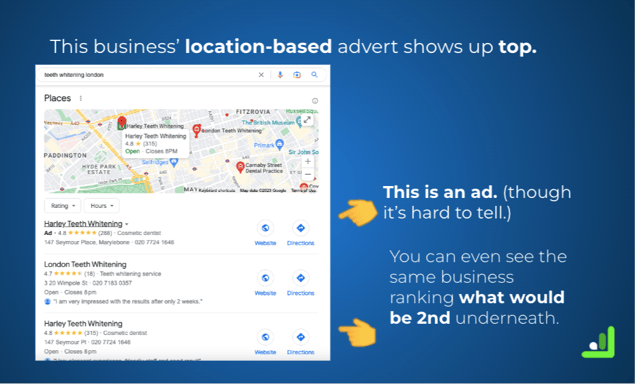 What happens when a patient clicks on that Ad?

Well, a number of things can happen, and it depends on both your preference and your digital presence, or a combination of both.
If you don't already have a modern website with a booking calendar and the option to pay, then you might want to consider having a Google Maps Ad which targets phone calls.
There are advantages and disadvantages to having a phone call objective.
Advantages
It's easy for them to click on
It doesn't rely on you having a website
Disadvantages
People can't call you out of hours, which is most likely when they're searching and finding the advert.

If your phone lines are busy, people might give up, and you'll lose the appointment but pay for the ad.

It adds to your phone call volume, which presumably as a pharmacy is already quite high.
However, we prefer digital booking systems, where after clicking on your ad the patient is taken to a landing page on your website with information about the service and a link to book and pay for an appointment.
If you don't already have a modern website with this functionality, Pharmacy Mentor can help there too. We've built hundreds of pharmacy websites with a focus on attracting patients and securing bookings.
Which pharmacy services does this work for?
This works best for any services people are Googling. It's even worth doing just for the Google Search of "Pharmacy near me", guaranteeing you're considered every time someone near you needs a Pharmacy.
However, regarding Private clinics, which is where the highest margins for your Pharmacy Business are, we're seeing the best returns on:
Ear Wax Removal/Ear Health Clinics

Travel Vaccines

Blood Tests

Flu Vaccines
Which pharmacy services does this not really work well for?
As much as pharmacy owners want them to be, anything to do with Prescription Collection Machines or Free Delivery doesn't get searched for a lot on Google.
Your best bet with these is to advertise for "Pharmacy near me" on Google, and then optimise your profile & website with your USP.
If like other Pharmacy Mentor users, you want to start attracting more local shoppers and unlock the power of "near me" searches for your pharmacy get in touch with our team!